Hot Water Tanks, Unvented Cylinders, Megaflo, Hot Water Cylinders,Immersion Heaters, Electric water Heaters, Economy 7 water tanks.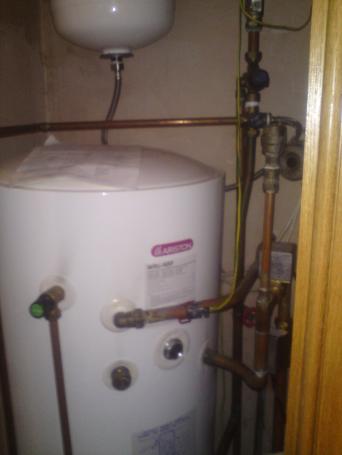 The hot water cylinders store a large amount of water and are heavy, if they are fitted incorrectly or have started to leak it will rot the floor and due to the weight of the hot water tank it could fall thorough the floor.
If you see green scale or limescale on or around you hot water cylinder and pipe work then DO NOT touch
it as it could be holding back a leak, you should get on the phone to us and have one of our expert engineers to come round and have a look.
Recently some home insurance companies have not paid out the customers for damage done to their home after a flood due to hot water tanks, or the cold water storage tanks in the loft leaking, as the customer has not kept up with maintenance.
In the picture below a landlord did not get his cooper cylinder changed and when it leaked it caused damaged to his tenants newborn babies toys, bedroom furniture and flooded the neighbour downstairs. We made it safe but was told by his insurance company NOT to remove it or do anything to the plumbing until one of their insurance assessors came out the next day and looked at it.
In this case the landlord had to pay us, his downstairs neighbour and his tenant from his own pocket for all repairs and damaged caused by the water tank leaking.
Hot water we all need it, we have become so dependent on it, so when it stops working we panic. There are three ways you get hot water.
1) From you combination boiler/water heater.
2) From your boiler that heats your hot water tank.
3) You may have and immersion heater. If the boiler or the electric immersion breaks down you don't get hot water.
There are two main types of hot water tanks/cylinders out there, the one in the picture to the left is commonly called a mega flo/unvented this is filled from your water main and has a number of safety device fitted to it, and should be serviced yearly when you get your boiler done to prevent it breaking down when you most need it.
The other type of hot water tank/cylinder is covered in yellow, green, or blue foam, sometimes a red padded jacket, with a big black water tank in the loft this feeds your hot water tanks/cylinder.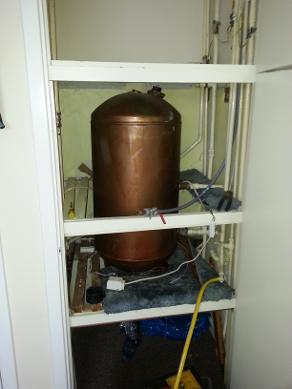 As you can see this heavy copper water cylinder was installed on to 2"x1" timber battens with no support, any builder, plumber or DIY handyman can see it is dangerous.