Power Flushing Central Heating System's
In Watford WD18
Manga clean central heating sludge removal
Power Flushing & Magna Clean filters in

Watford WD18

After having a power flush on your heating system, at Abbotts Maintenance we highly recommend having a Magna Clean Filter installed onto your system.

The Magna Clean filter is designed to remove all iron oxide particles that contaminate your system. The filter is a magnet that collects all the iron particles that are present when your heating system is in use. A Magna Clean Filter is highly efficient and can remove virtually 100% of the iron oxide (rust) which builds up in your system naturally overtime due to the constant flow of water through the central heating system.

Once you have a Magna Clean filter installed it is important that it is cleaned out at least once a year to ensure the filter works at its best. This can be done by you and does not require a central heating engineer. If left un-cleaned the magnetic part of the filter will be unable to collect the iron oxide thus causing more central heating problems and can result in you having to have another power flush completed.

There are no on-going running costs with a Magna Clean filter. A Magna Clean Filter can collect, on average, a year's worth of sludge build up when attached to a new or recently power flushed system, and will then need cleaning. If attached to a system which has a large build up of sludge inside, the Magna Clean filter will need to be cleaned more regularly for the first year, then once a year thereafter.

Magna Clean Filter Features and Benefits:
Long operational life

Simple installation and servicing, saving time and money

Immediate results and system protection following installation

No ongoing running costs

Quick and easy chemical dosing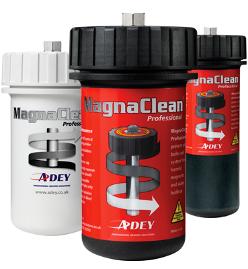 Power flushing the central heating system is essential to removes rust, lime scale and sludge from your boiler and radiators. A power flushing machine pushes water at a high velocity throughout the central heating system to clean pipes and radiators, dislodging debris and limescale in the process. Sludge builds up over time on the inside of your pipes and radiators, due to when radiators are made and tested with water and sealed they are corroding before they are installed in your home. The more your radiators rust inside, the darker the water will become until it starts off going grey then black until it gets to a thick engine oil type of liquid before turning red/brown rust. If left unchecked, the rust will continue to build up and will block the flow of hot water. The signs include cold spots on your radiator, rattling sounds from your boiler and dirty water. If your central heating is showing the following signs, it's probably a good time to consider power flushing your system:
Watford WD18 has some very hard water and this makes lime scale and sludge form a lot quicker in the heating systems.